David Haillant Euro Stripboard PCB v1.3
David Haillant Euro Stripboard PCB v1.3
One of the coolest DIY ideas we have seen in a while!
More here: stripboard
What's new in v1.3?
The silkscreen has been improved: The lines are now showing the contour of connected pads instead of following the tracks.
The power supply interface has also been improved: the capacitors are after the diodes (or resistors).
A stripboard dedicated to Eurorack module format.
The most convenient way to build any simple module. Just use it as a standard stripboard PCB.
Bottom side: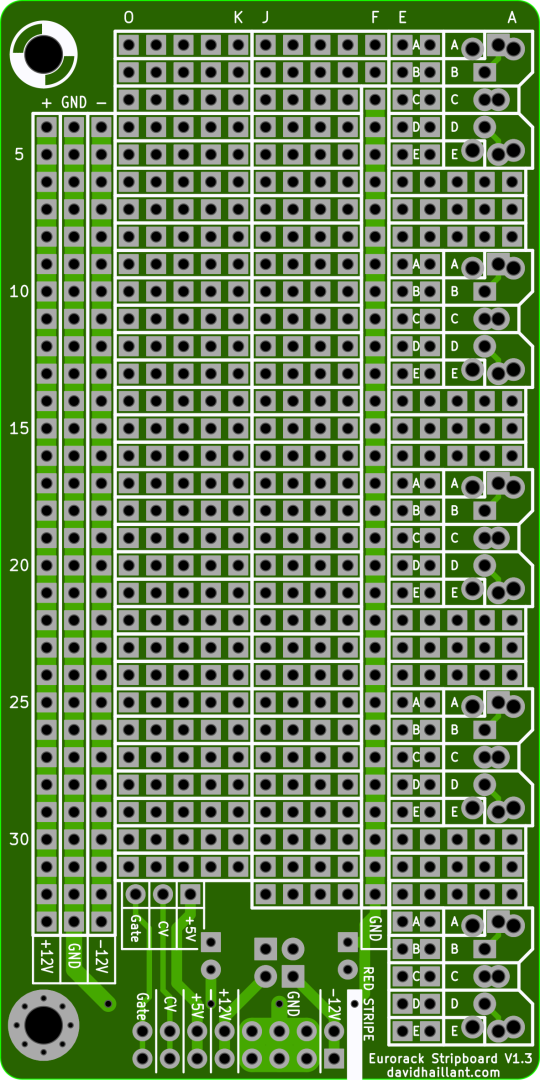 This stripboard is designed to help in the process of building your own module. Power supply interface is almost completed: 16 pins connector with silkcreened signal marks, filtering capacitors and bead filters or protection diodes.
You can use up to 5 potentiometers or 5 Cliff style Jack connectors. Potentiometers can be any of 9 or 16 mm types, Alpha PKN160 for example.
This is PCB only, no component provided. Use any component you need :) Be creative!